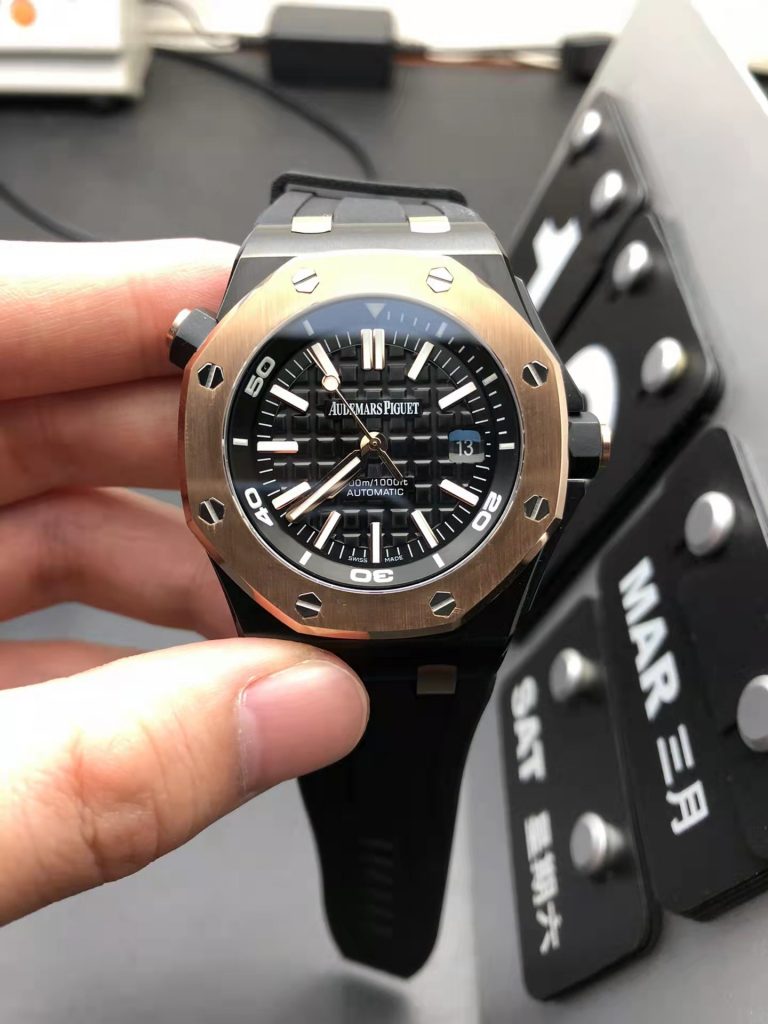 Actually I am not sure if this AP Royal Oak Diver is a new model from BF(B Factory), this factory published replicas of several AP Royal Oak Diver 15710 models before, I did not see this model, which has a PVD black case and a rose gold bezel. AP Royal Oak Diver 15710 is one of the best-selling Audemars Piguet replica watches before, about replica 15710, two big factories made, one is JF, the other is ZF. JF is the first and earliest watch factory to make this watch, 15710 is also one of the flagship products of JF. BF started to manufacture the replicas of 15710 in last year, compared with JF and ZF, the 15710 from BF has a lower quality, but their biggest advantage is more affordable price.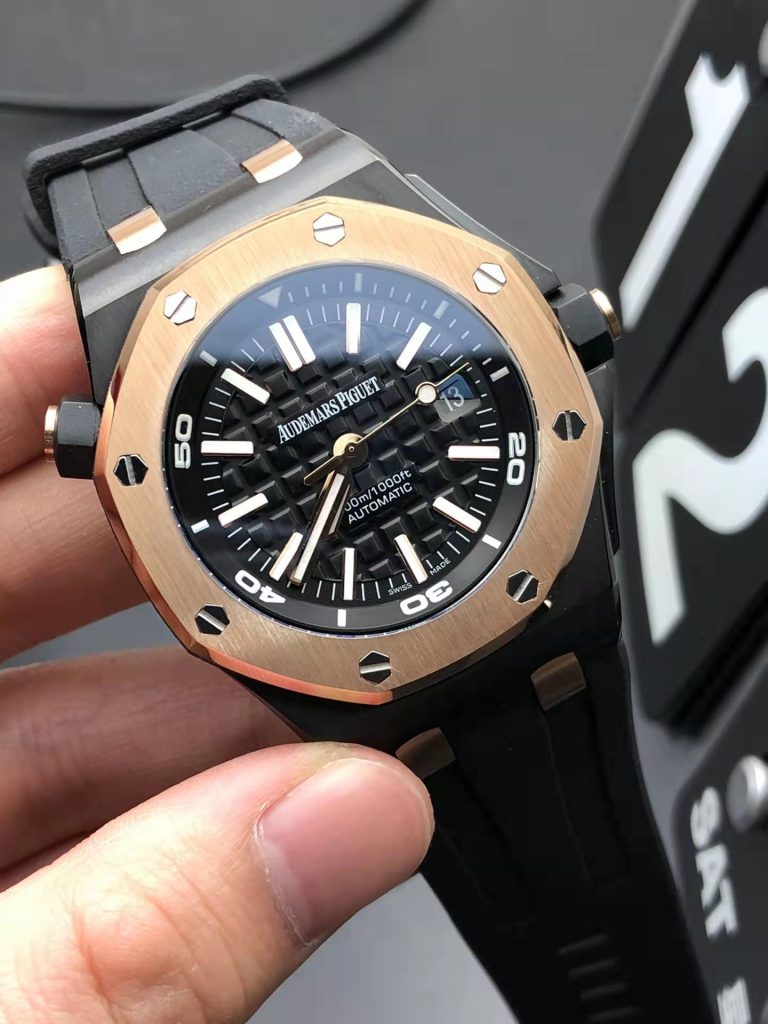 About the movement, in this Diver 15710, both ZF and BF use a Japanese Miyota 9015, while JF uses an Asia ETA 2824-2 as a base movement, the three watch factories all added extra plates on the base movement, and made modifications on the plates and auto rotor, so the entire movement can have a closer look to genuine AP 3120 Calibre. So, such modification on the movement makes the replica watch thicker than genuine watch, the 15710 from these three factories has a case thickness of 13.8mm.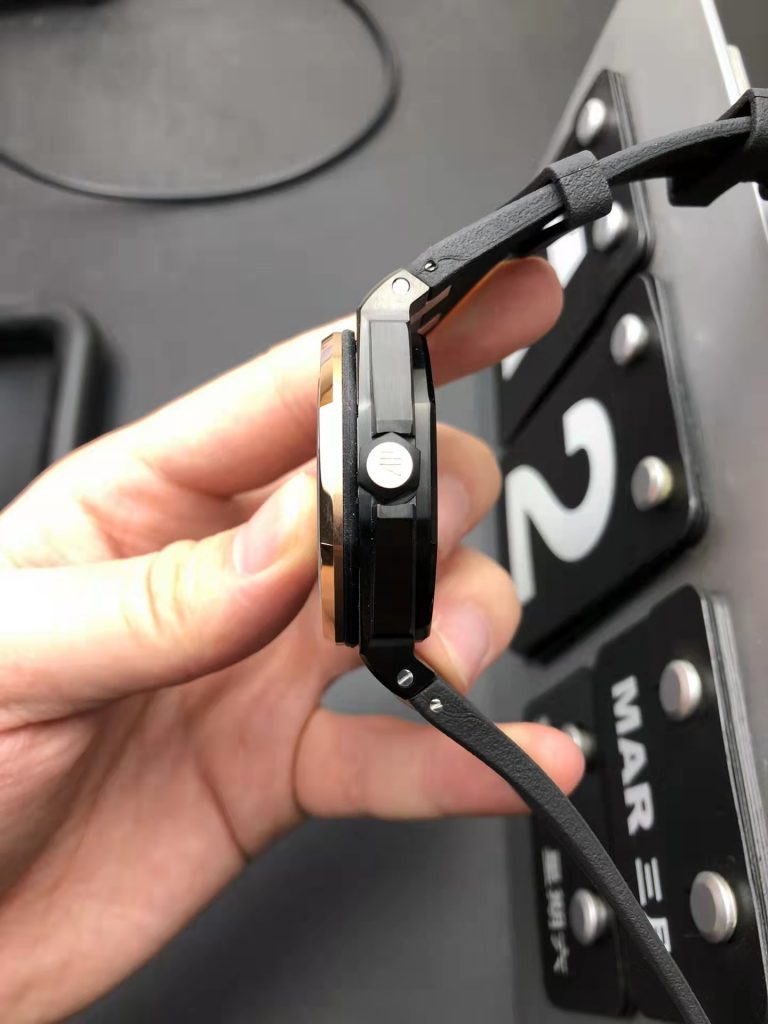 Among these three watch factories, the cheapest 15710 replica is from BF, why BF 15710 is much cheaper than ZF's even both have the same base movement? Because the decoration on the movement plates and auto rotor is different. When you compare the 15710 from ZF, JF and BF, you will find the movement decoration on BF 15710 is not nicely done, which is not like ZF and JF that has been delicately completed. The jewels on movement plates, its color is also very different from that on genuine AP 3120 movement, the engravings on auto rotor also do not look that clear and fine on JF's movement, this is one of the reason why BF can sell 15710 at a cheaper price, the movement decoration quality has a big gap between ZF and JF. You do not even say its case finish, ZF and JF do much better than BF. The latest version of JF 15710 has come to V10, so you can imagine how many work JF has done on this watch, the case finish, details on bezel construction and the crown assembly, all of them are concerned all the way when JF developed this watch, in these details, there is still a big gap between BF and JF. When you hold this BF 15710 in hand, check the case side, you will find its rose gold bezel does not fit the case tightly, little gap existed, that's bad, maybe the watch master did not install the bezel correctly, I do not deny there are good ones in their inventory.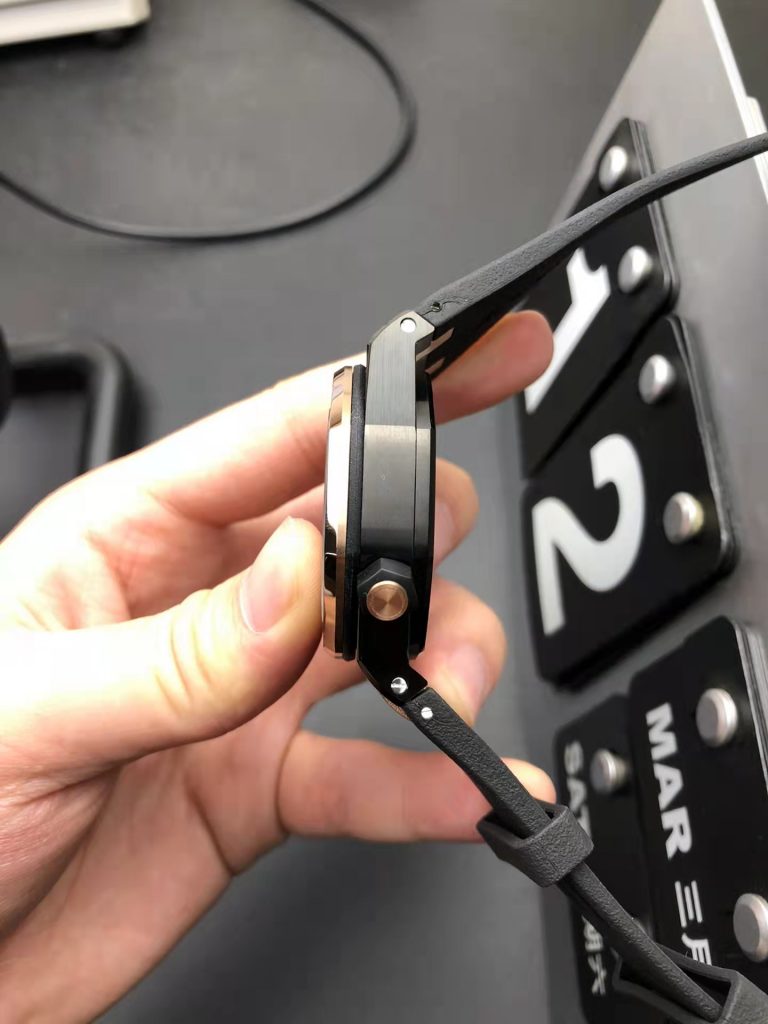 However, BF has the most complete collection of Royal Oak Diver 15710, including the regular stainless steel, rose gold and this pvd black. And for the stainless steel model, the dial color also has options of black, white, blue, orange, yellow, green, etc. BF can completely meet the need of people for middle-level quality AP 15710.