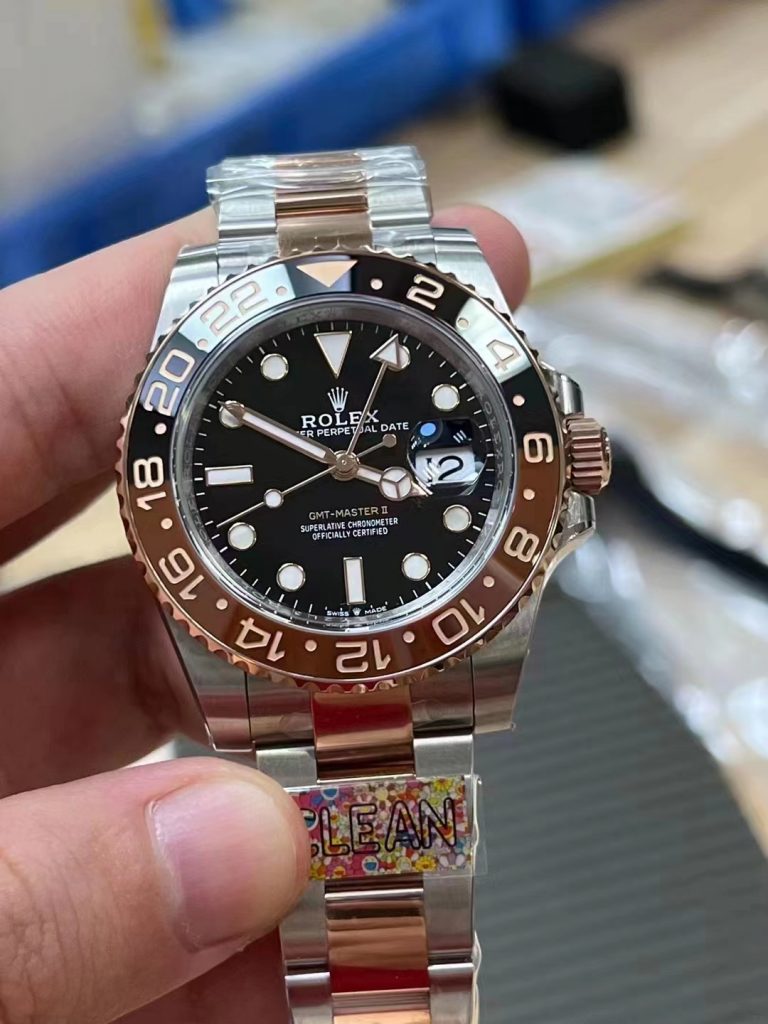 Now in our watch market, not too many watch factories are making replicas of Rolex GMT-Master II, GM, GS and Clean are the three factories that make super clones of GMT-Master II Rolex watches. Among these three factories, GM has a long history, GS also makes good quality GMT-Master II, but both not as popular as Clean, while the prices of GMT-Master II from Clean are very high, especially the prices of the latest GMT-Master models like Sprite, Rootbeer and Batgirl. Usually for GMT-Master watch fans, I will recommend them the Batman or Pepsi, because these two models are the oldest and have a mature watch-making technology, but in recent two years, more people are interested in this two tone GMT-Master II or the Batgirl, that's ok, after all some new features on the latest GMT-Master II are accepted by more people.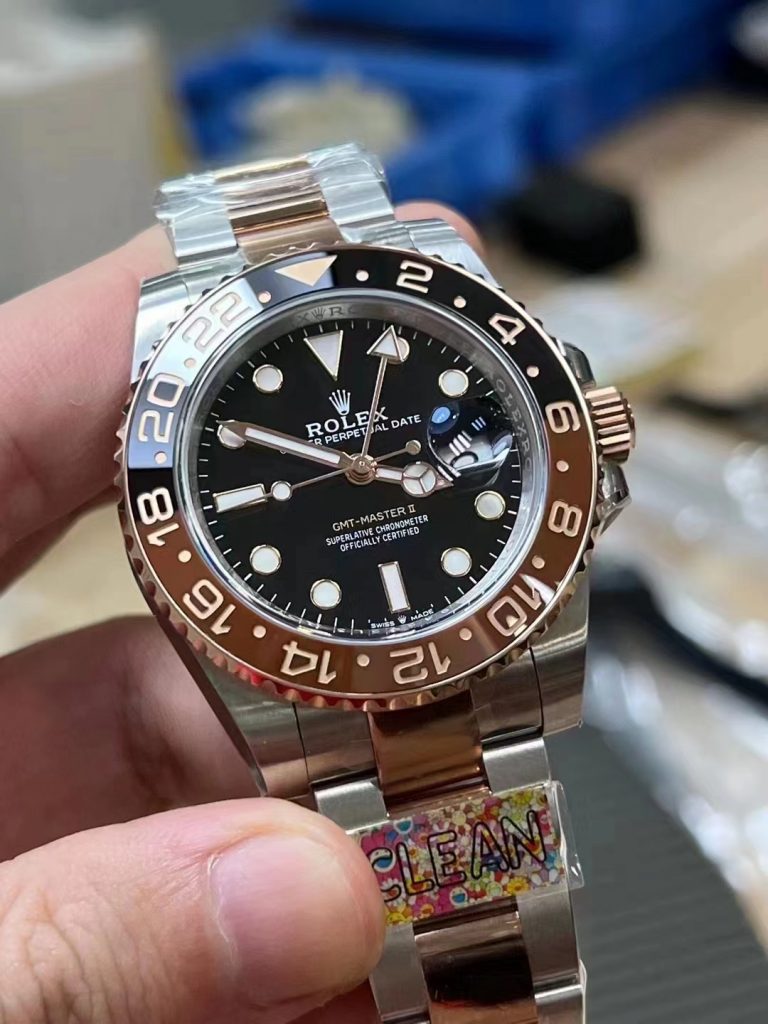 For the best replica of GMT-Master II, I usually suggested people buy from Noob before, now this factory does not exist, Clean is the factory I often advise people to buy from. In replicating GMT-Master II, there are two difficulties, the ceramic bezel and movement. First, the ceremic bezel color and the color transition should be made correct. Second, it is about the movement, whether a clone 3186 or 3285, both should have the same time and gmt adjusting as genuine watch. About this GMT-Master II in two tone rose gold style, in my memory, GM and GS made this watch, and it has been proven that GS version is better than that of GM, some clients bought it and said this. But I did not compare it with Clean version.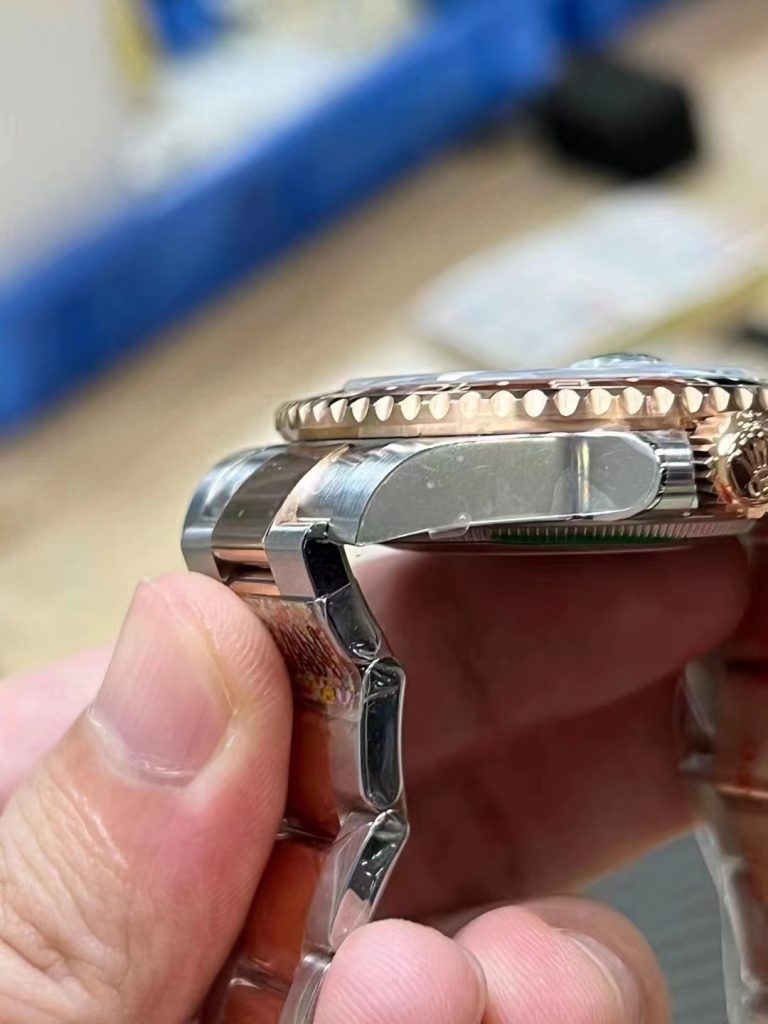 This GMT-Master II by Clean now is available. It is said that the ceramic bezel from Clean is the best in the market, this is true on green Submariner 116610LV made by Clean, I do not know how good the ceramic bezel on this two tone GMT-Master, although people have a high recognition on its black/blue ceramic bezel of Batman and the blue/red ceramic bezel of Pepsi. I did not compare the black/brown ceramic bezel on this replica GMT-Master with the genuine, but Clean has been specializing in making ceramic bezel for many years, I believe in the quality of this black and brown ceramic bezel. The brown color on the bezel is very close to the rose gold tone on the bracelet.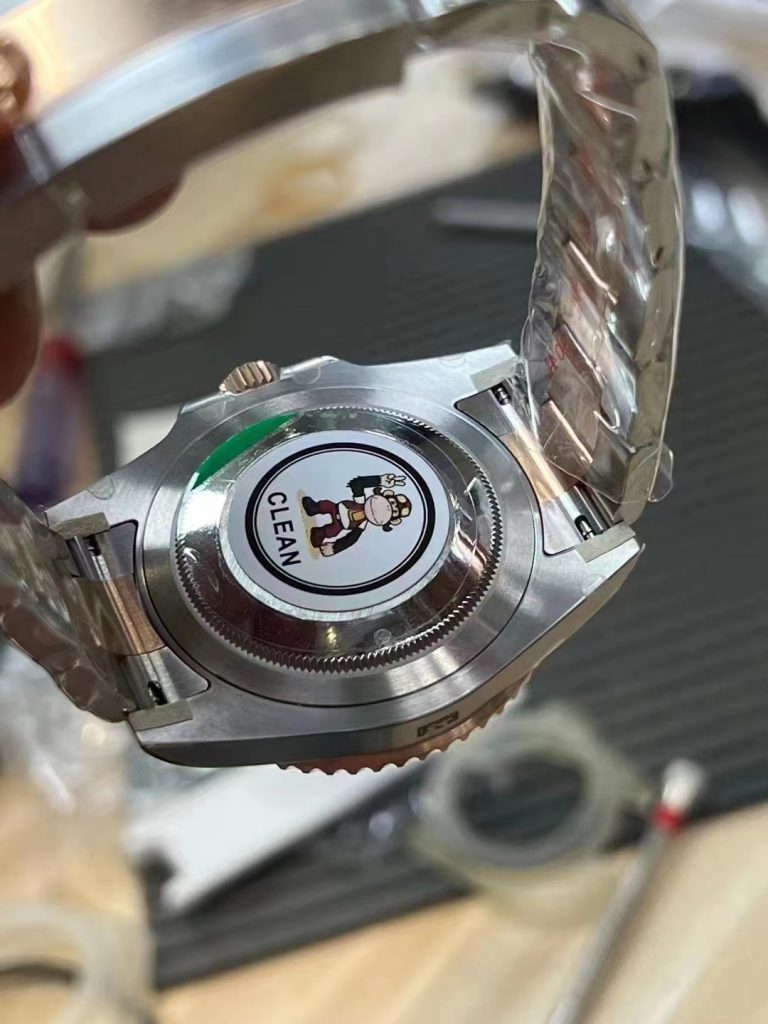 About its movement, the replica uses a clone 3186 movement, the genuine watch uses a Rolex 3285 movement, on the movement plate, it is engraved with "3186", not 3285, that's a pity for this super clone GMT-Master II, but Clean claims that the movement offers the same functions as real. About the GMT-Master II replicas from Clean factory, although they are currently the best ones in our market, but I think they are lack of improvement, it seems like Clean factory rarely made improvements on their GMT-Master II, we all hope they can upgrade their GMT-Master II in future, it is very necessary because they are selling GMT-Master at very high prices, the quality must meet their price level.