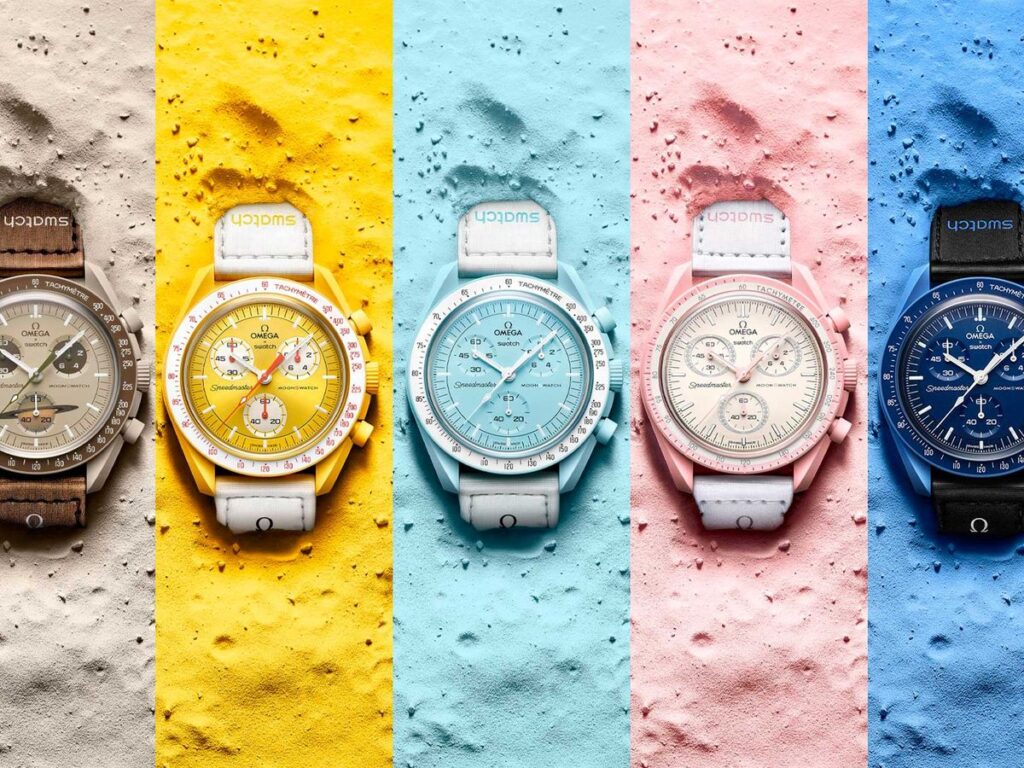 Written by u/Sinner_NL_
First things first.
This is the store I got them from for (back then) $20 a piece:
https://www.dhgate.com/store/products/21834996.html
(if the link does not work, just search for "Swatch1" on DHgate.com)
I bought these without boxes (the boxes are just a few bucks and come with manual, a moonswatch booklet and a stamped warranty card) because I would just throw them away anyway as the watches will be put in a custom made case. Also I asked them to ship it in 2 parcels because of our customs over here. And so they did. Seller is actually a nice guy that speaks English very well and responds fast. I ordered these a few days before Christmas and they arrived today. This due to COVID19, Christmas, New year and to the fact that I chose 'free shipping' (that is usually the slowest) it took a while to get here but I was not in a hurry so that didn't bother me.
Now, I am not a professional photographer and now I see that some colors do not represent the tones they really are. This can be due to my old phone's camera or the LED lighting I have. I have made some Lume shots too. I have done this by 'charging' the lume for 30 seconds with a Xiaomi flashlight at max power and making a photo 5 minutes after that. Not the best lume test, but you can at least see if (and where) there is any lume or not.
Also, I have just noticed that I have completely forgotten to remove the protective film from the 'crystals' so if you see any bubbles, scratches of something weird on the crystals, that is the reason. All watches came well protected in loads of bubble wrap and have absolutely no damages at all.
The housing and buttons of these watches is just normal plastic (of course), no bioceramic. The crystal is simple Acryl. Very soft and easy to scratch, but on the other hand very easy/quick to polish so it looks like new again. The buttons do not have a tactile 'click', but they are also not too mushy. Actually, I like the feel of them. The battery-lid (I don't know the real name for it) is a real removable lid and not just a fake lid like in a lot of replicas, it has a rubber seal ring .and there is no way you can change the battery trough that lid. 😂 To change the battery you will have to pop off the whole back (that also has a rubber seal ring).
Inside these watches is a Sunon PE50 movement. It's cheap and it keeps time well. The chrono does it's job as it should at it's really not bad for a $4 movement. Oh, the movement also has a date dial but as the moonswatches have no date window, this is not visible.
The straps are made of a material unknown to me, but they are very comfortable to wear, the stitching is well done, the printing is really good, there's no nasty fufu smell and they are 20cm long. (I think that is 8 inches?)
All the watches have the branding in places like the original ones. Even the "S" on the crystal (hard to see on photo's). But they are not originals, these are cheap fakes that of course have flaws. But what to expect for a $20 (shipped) watch. I mean, IMHO they look nice and it's a great watch for your daily use, especially in summer. Going to a bar, beach party, a BBQ, to sit in the garden or wear 5 at the same time? Slap one of these on and have no worries about scratches. It's not some fake Rolex you've paid $1000 for and are afraid to scratch. It's a simple and fun $20 watch. No worries, even if it breaks. 👍
Now the pics.
MISSION TO URANUS
giggity
MISSION TO PLUTO
Lume: Unfortunately, this watch has no lume at all.
MISSION TO MARS
MISSION TO VENUS
MISSION TO NEPTUNE
MISSION TO SATURN
MISSION TO THE MOON
MISSION TO JUPITER
MISSION TO THE SUN
MISSION TO EARTH
MISSION TO MERCURY
Update:
So I did a better lume test. I took a random MoonSwatch out of the box and 'charged' the lume by placing a flashlight on top of the watch for 3 minutes. After that, I just watches how long the lume would last. Well, I must say that it was less disappointing than I thought.
Here are the photo's showing the result of my updated lume test.
And of course these have the 1/10 flaw that all of these cheap fakes have. The flaw is that on an original MoonSwatch the top right dial will always point to 10 when the chrono is not running.
On a fake, that dial is actually a 24 hour clock so it (most of the time) won't.
It can clearly be seen on this comparison shot I made:
Written by u/Sinner_NL_