Cartier Ballon Bleu is also one of the best replicated watch in our market, but many people do not like Ballon Bleu when I introduce the most high-end replica watches to them, even women won't consider a Ballon Bleu as their first choice, I do not know why, there are so many good quality replicas of Cartier Ballon Bleu with a lot of styles, they can also be equipped with real Swiss ETA movement, but Ballon Bleu is still not the best-selling ladies watch here.
Before the closing of V6 factory, the replicas of Cartier Ballon Bleu were indeed sold very well, Ballon Bleu was also one of the flagship models of V6 at that time, but now V6 is closed, the popularity of replica Ballon Bleu has dropped a lot, however, that does not mean there are no top quality replicas of Cartier Ballon Bleu after V6, in our market, both AF and K3 are producing the best replica Cartier Ballon Bleu watches.
We know AF, it is an old watch factory, their Ballon Bleu is the best, the ice blue one is a new model they just published. About K3, its name is actually 3K, yes, the same factory that produces the Nautilus replicas, I do not know why they used a different name when making the replicas of another brand, for example, 3K used name "Better Factory" when manufacturing the replicas of Rolex Daytona.
The ice blue Ballon Bleu from AF has a diameter of 33mm, a normal women size, with a ice blue dial, I think many ladies will love this style. Do not need to talk about the finish on case and bracelet, it is top level, the brushing on the middle links forms a high contrast with the polishing on side links.
The watch is very expensive because the clone Cal. 076 movement is modified from a real Swiss ETA 2671 automatic movement.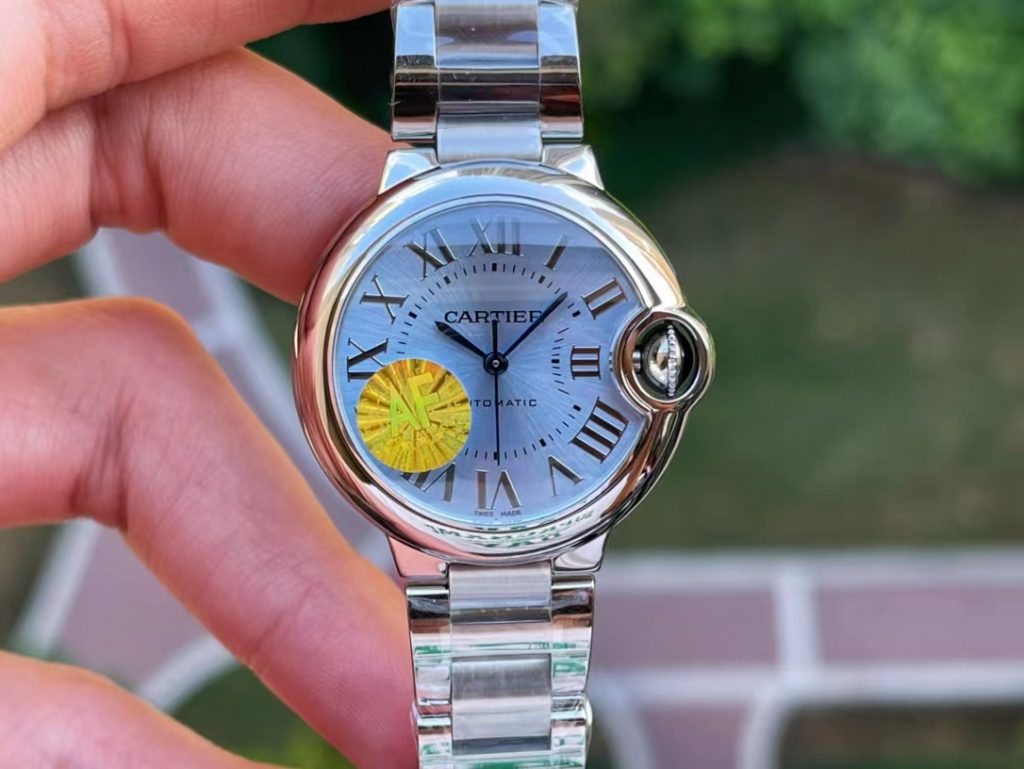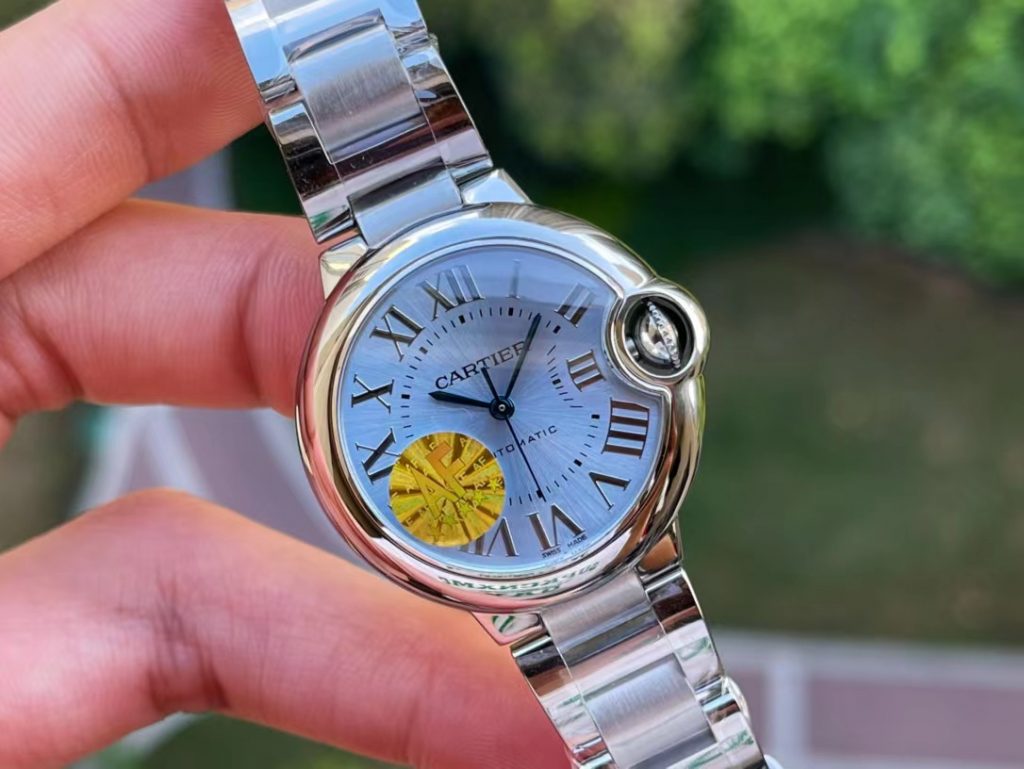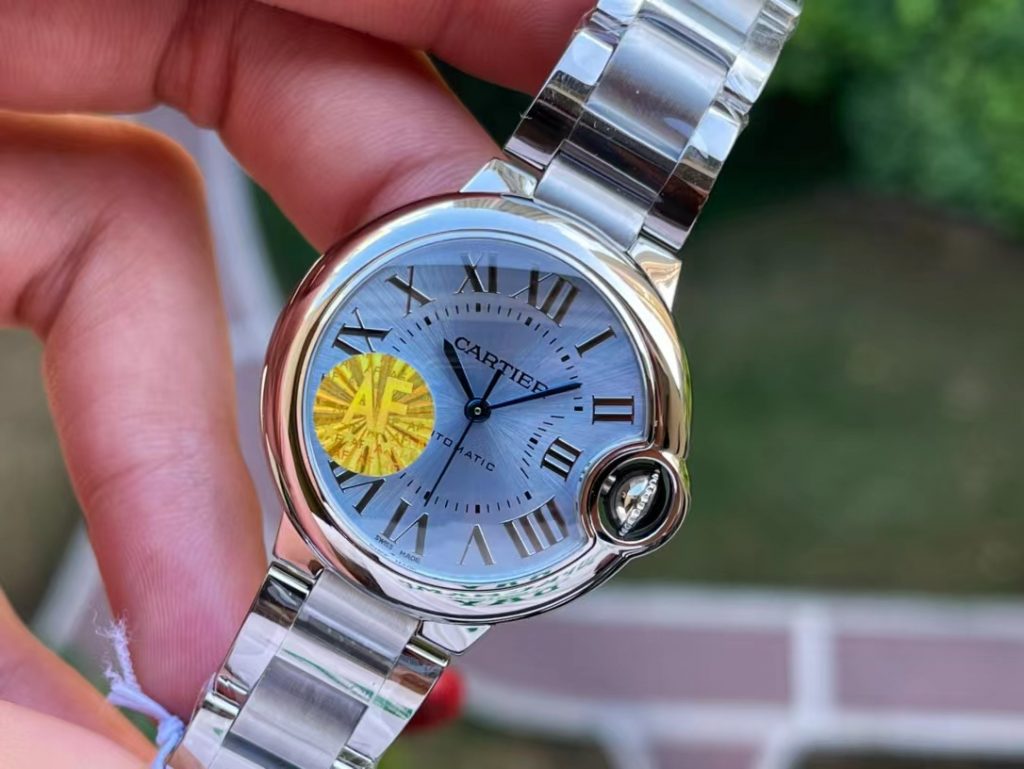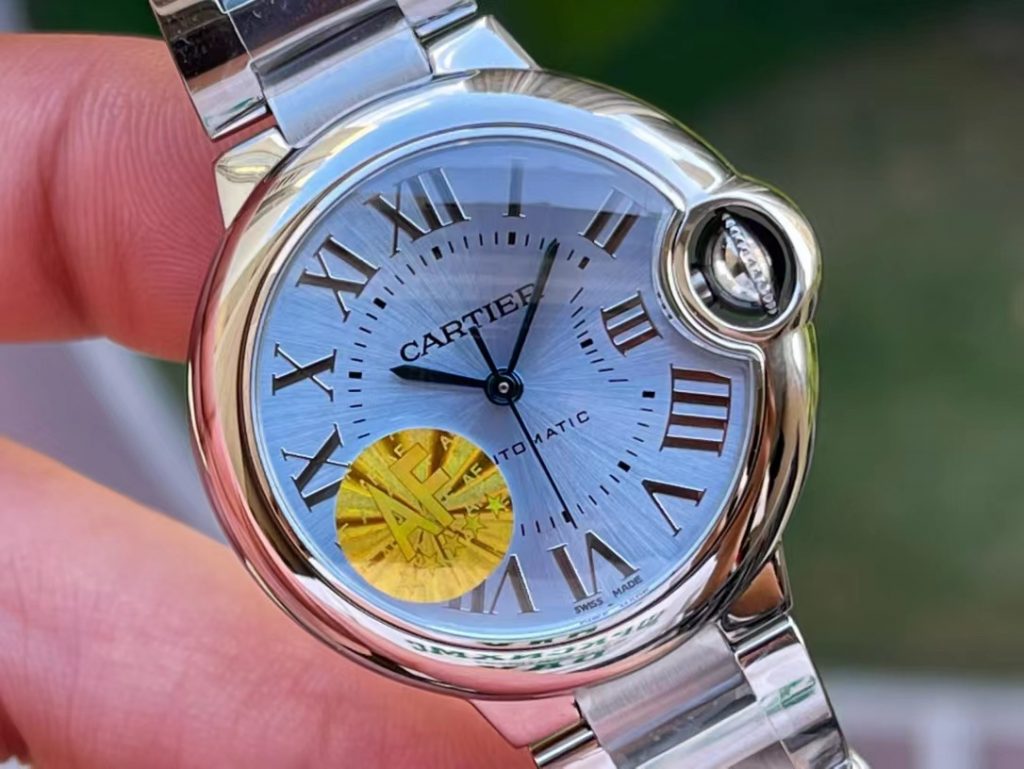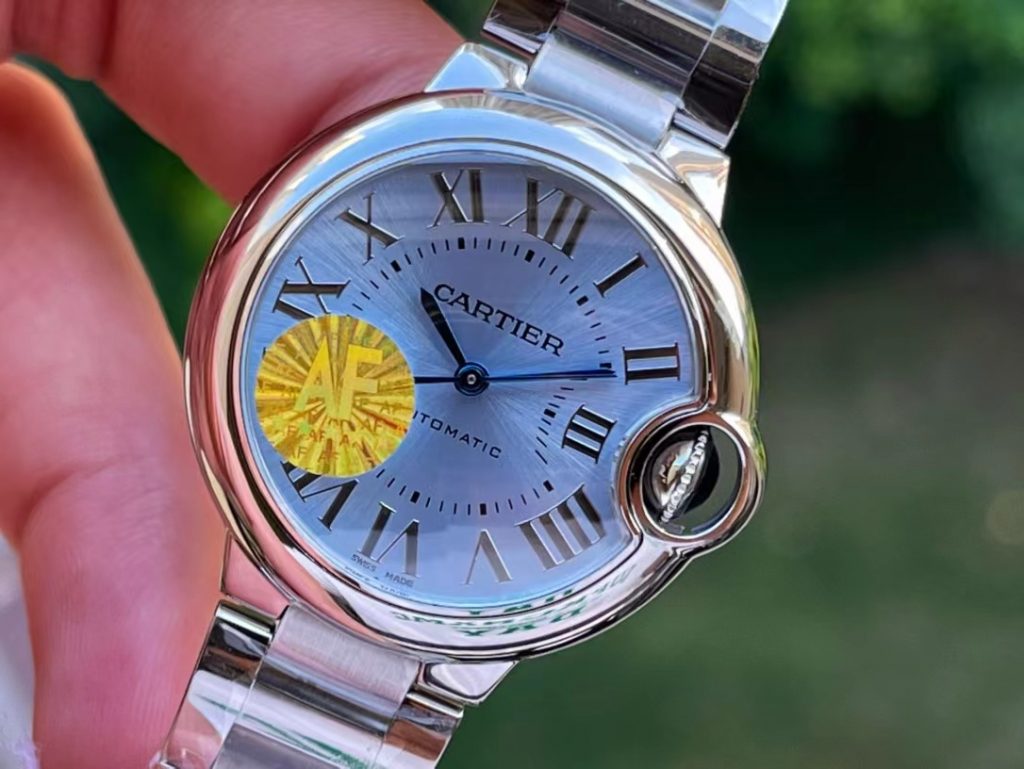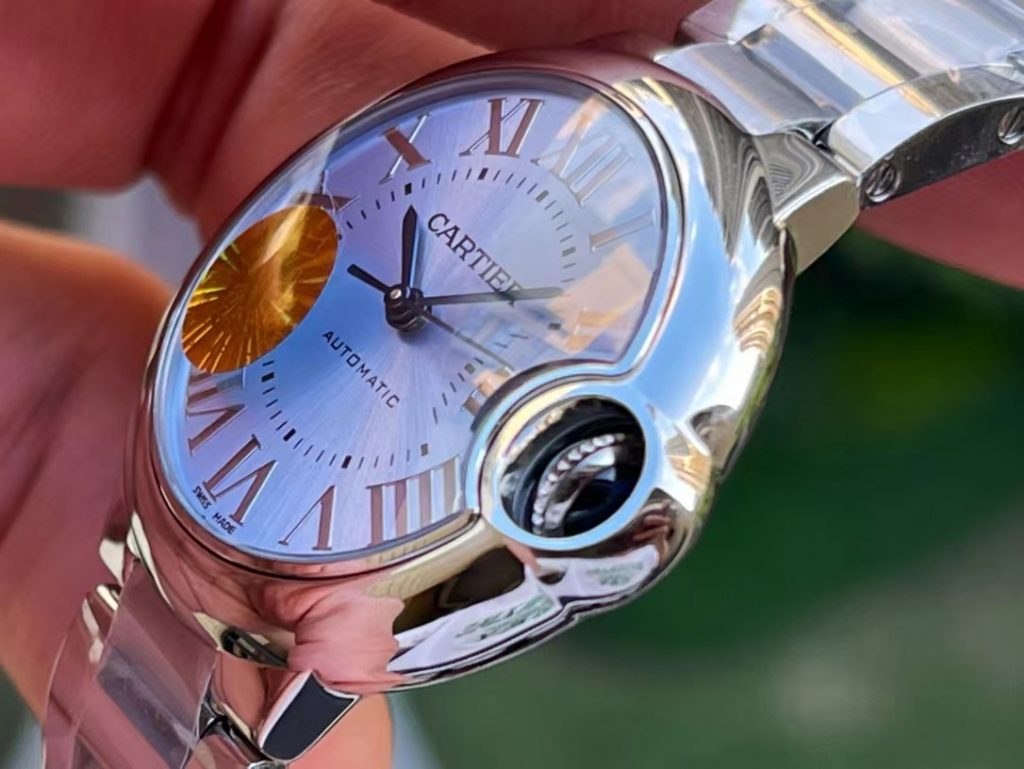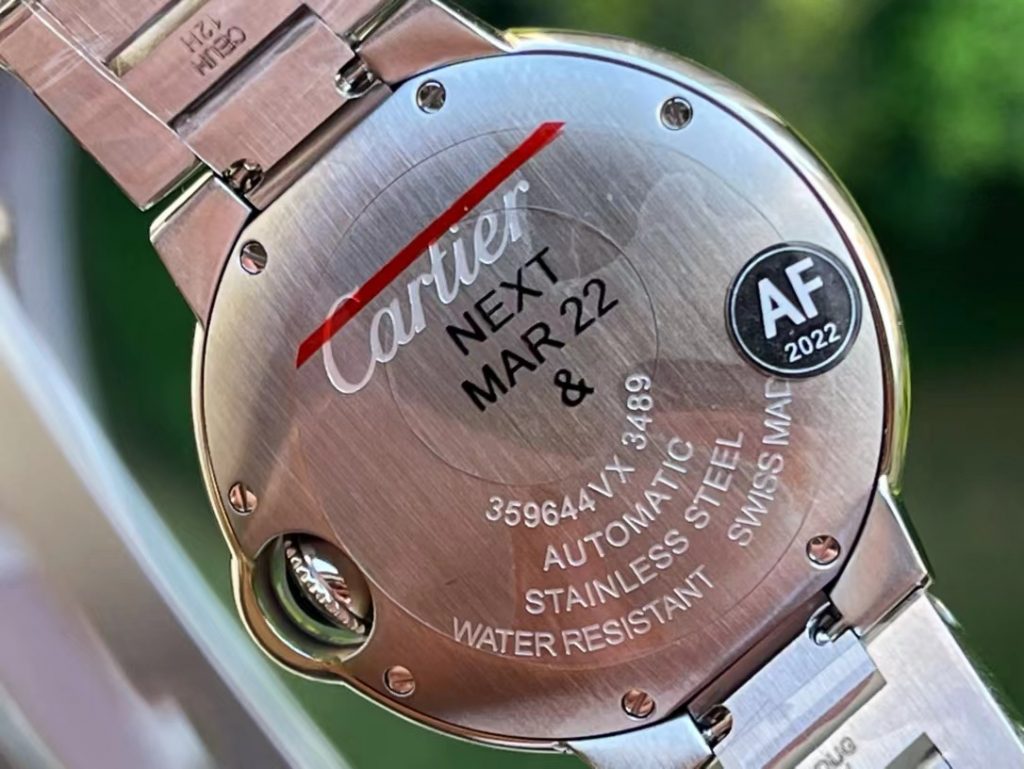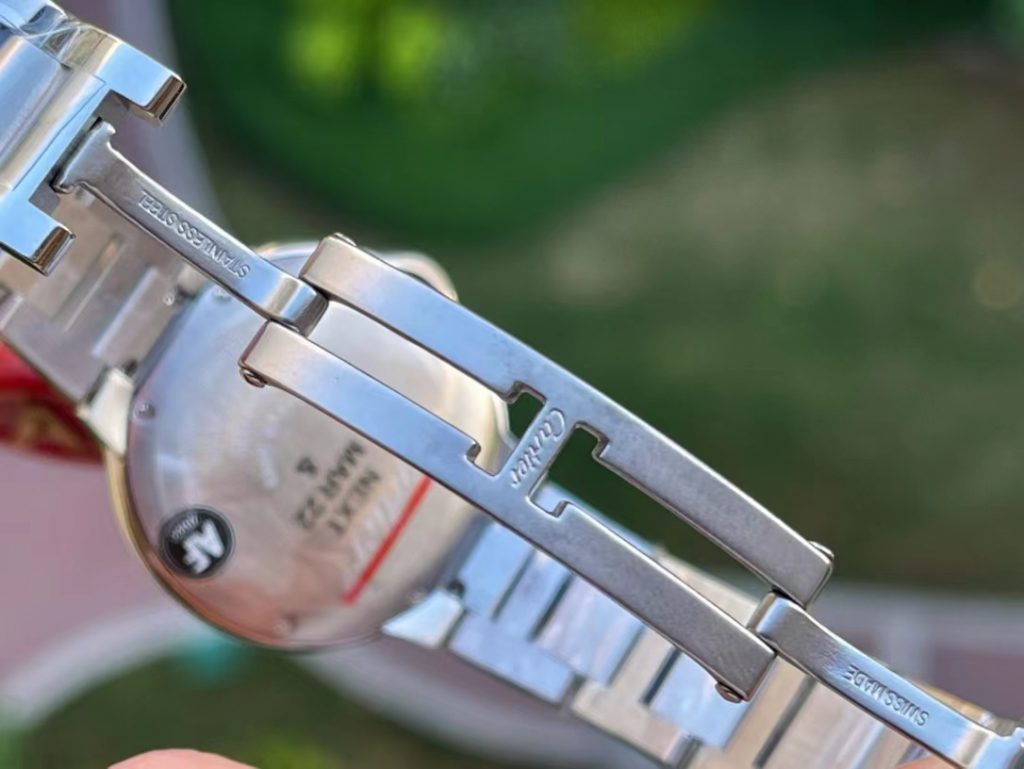 Another good-looking timepiece I want to introduce is the yellow gold Rolex Day-Date, GM factory makes it, I do not know if other factories make it. This Day-Date attracts me just because of its outlook, yellow gold with president bracelet and unique black dial. Real watch is a special edition from Rolex. The replica is very good, I like its design, the case, bezel, bracelet and dial all attract me, there are only yellow gold and black color on the watch, the yellow gold tone matches well with the black dial. Both case and bracelet are made with 904L stainless steel, then being plated with 18K yellow gold, the gold keeps the same tone on the case and dial. The dial is black, which looks very dark, not the common black you see on other watches, I love this abyss black. Both day and date window have golden frame, the background is also golden, except the golden crown logo and white printings, there are no markers. This is the Rolex with the cleanest dial design I have ever seen. I do not know how to describe this watch, just like it, like a sugar in my childhood.