Nike will celebrate the work of Virgil Abloh in Miami this week with "Virgil Abloh: The Codes c/o Architecture," a four-day exhibition at the Rubell Museum featuring panels from his collaborators and displays of rare sneakers from his Off-White x Nike collections. The Codes show is open to the public from Dec. 1 through 4 from noon to 7 p.m. daily.
The exhibition is being held in partnership with VA Securities, the umbrella organization for the late Abloh's projects that's run by his wife Shannon Abloh, and Architecture, a think tank group Abloh formed to help guide his output with Nike. Codes is themed around the idea of Abloh's work being defined by an identifiable set of design principles that can be applied to any medium.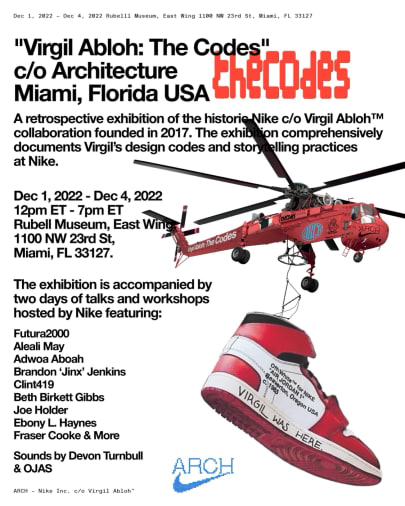 In its description of the event, Nike has hinted at what the future of its Off-White collaborations may look like in the wake of Abloh's passing in November 2021. "Each future project is expected to reflect on and reinterpret the Codes," reads a press release. In a New York Times piece this week, Nike design chief John Hoke said that there is at least a full year of Nike x Off-White launches still to come.
The near future is on view at the Miami exhibition by way of the Off-White x Nike Terra Forma, Abloh's first completely original design with Nike.
The space at the Rubell Museum also houses an extensive collection of past Off-White x Nike designs sourced from the Department of Nike Archives. There is a complete range of the Louis Vuitton x Nike Air Force 1s and a handful of Air Force 1s by Abloh that have never been seen by the public before. Among these Air Force 1s are alternate colorways from his museum series—a tan, a brick red, a vibrant orange—and pairs that riff on the Sheed, Olympic, and other Uptown styles of old.