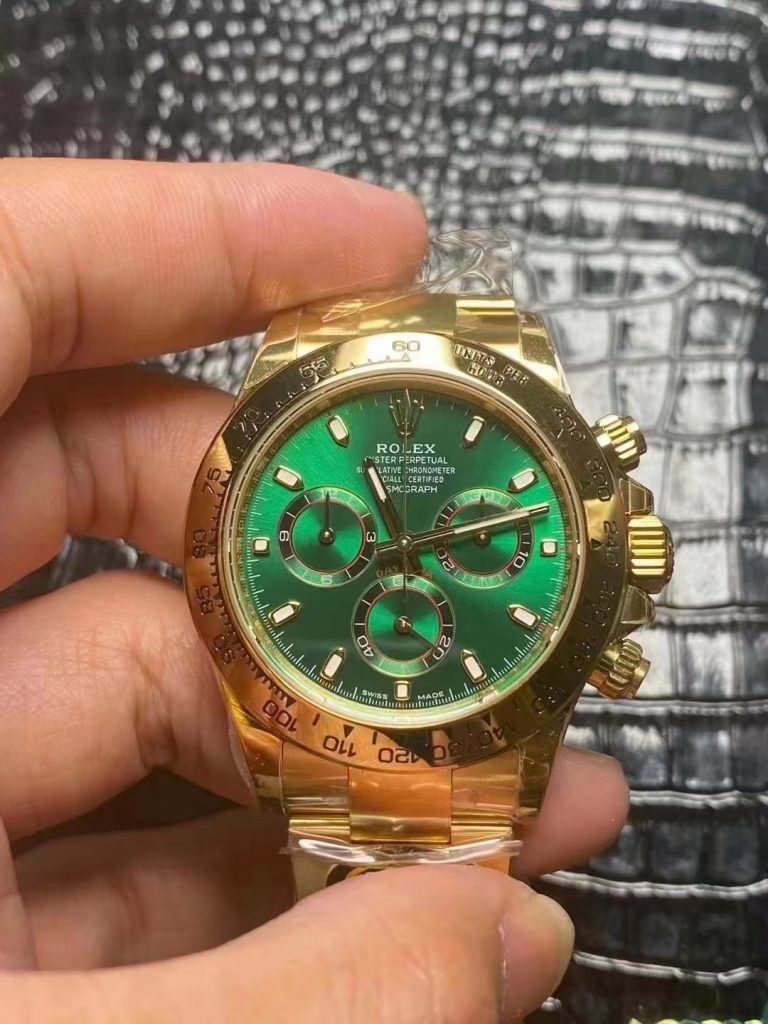 Better factory, also named BT factory, has published a lot of Daytona replica watches in recent weeks, the new models almost include each Daytona model you can find in genuine watch market, absolutely the most popular one is always the Panda Daytona 116500, I also made a comparison review about Panda Daytona on my blog before, and my conclusion is choosing the best one from Clean factory.
I also explained that BT is not a new factory, it is just another name which 3K factory uses in Rolex field, so we know both BT and 3K are the same one factory. I always think that there are four popular Daytona models in our market, they are two Panda Daytona, gray Daytona with rubber band and this yellow gold Daytona with green dial.
The yellow gold Daytona with green dial, I will call it yellow gold green Daytona in this article, is the only golden Daytona watch I like.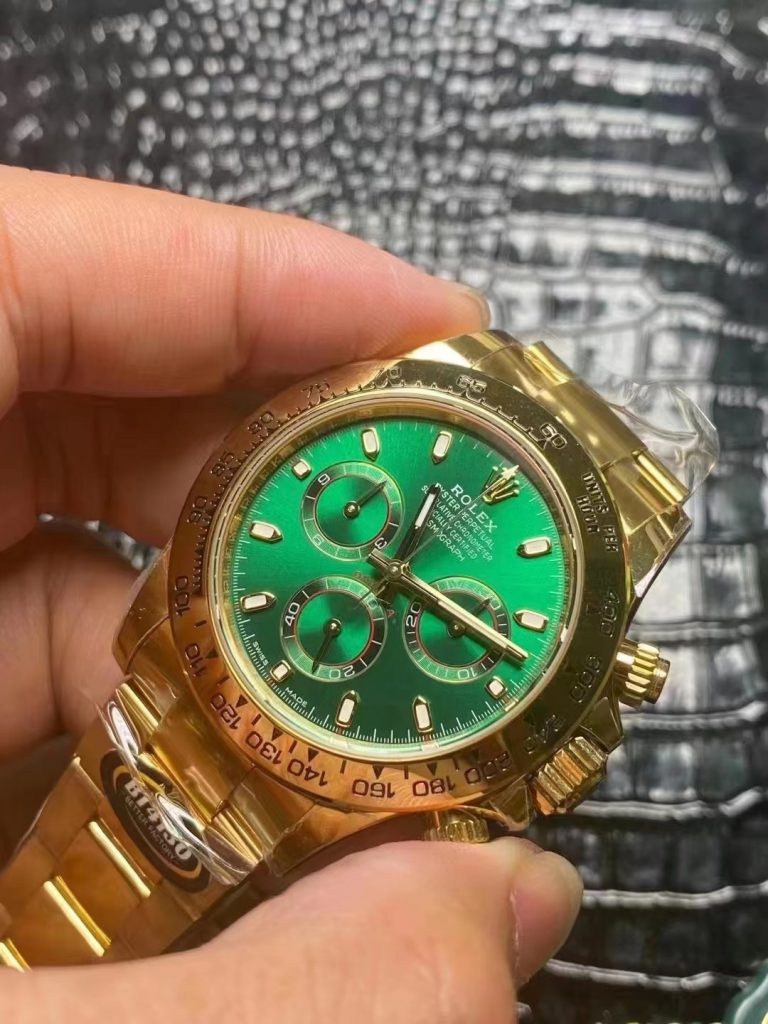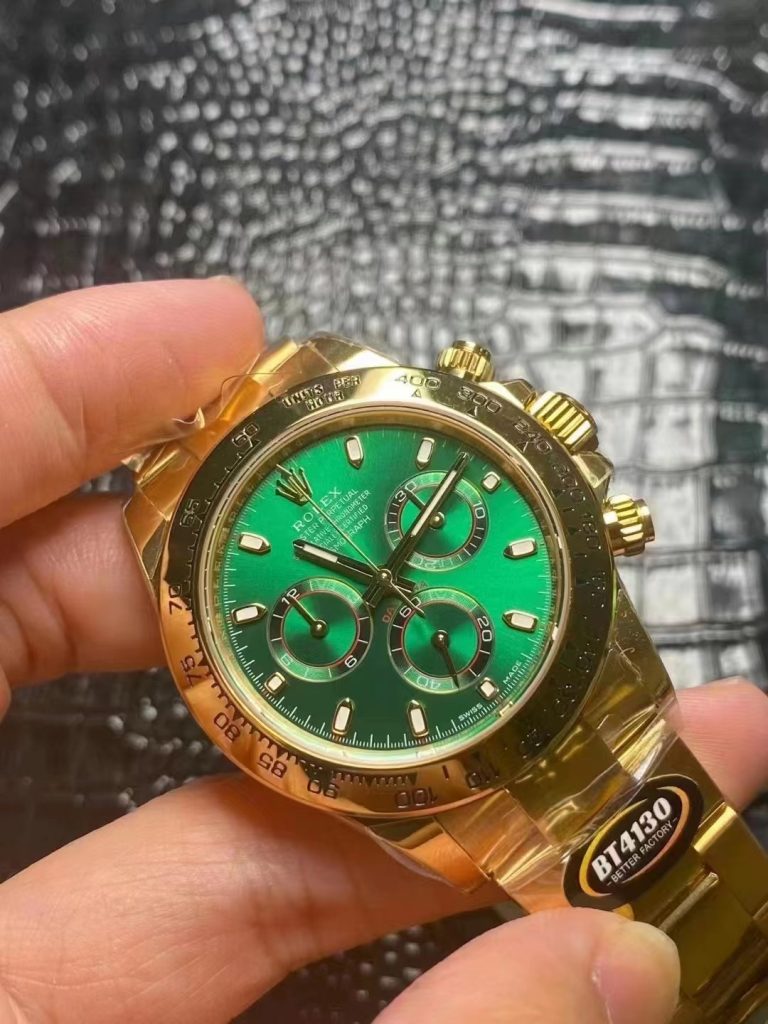 About this replica yellow gold green Daytona, currently two watch factories are making it, BT and New Noob. New Noob is not previous Noob factory, maybe this watch manufacturer uses "Noob" name to promote easily, by the way, New Noob's Daytona uses the same 4130 movement as previous Noob's.
BT makes it, but you may feel strange because you can not find this watch on every dealer's website, yes, BT factory still has not prepared stocks of this Daytona, maybe the first batch will be released in the middle of June.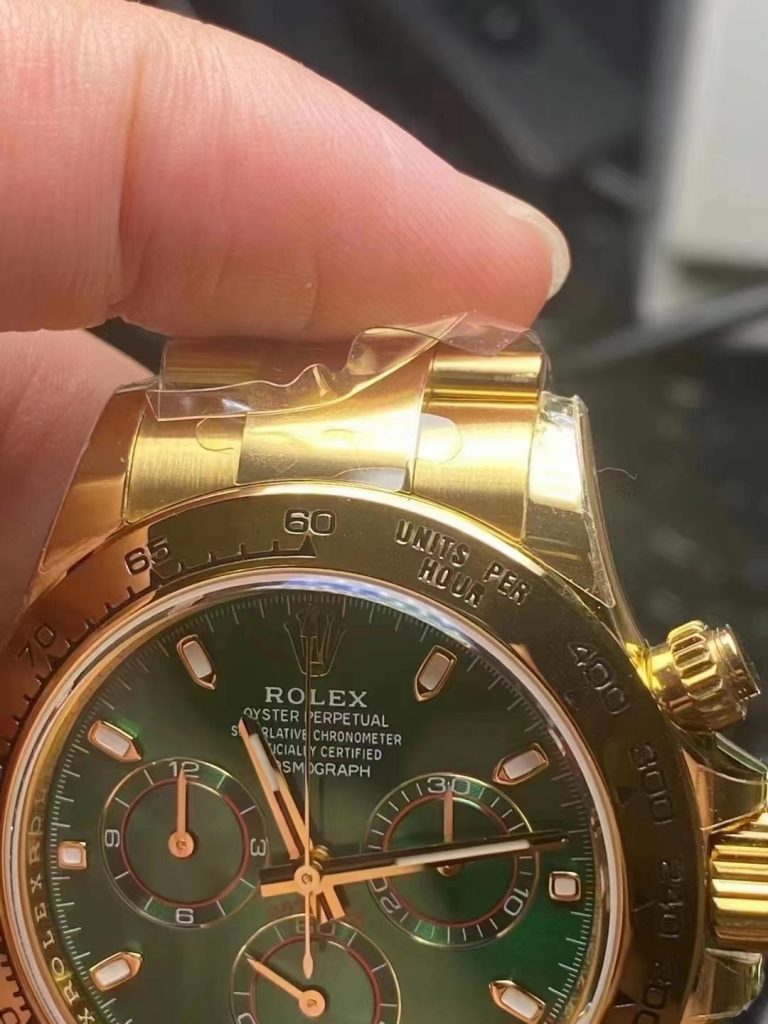 The Daytona is made with 904L stainless steel, there is a yellow gold layer, everyone cares about the gold thickness when they are going to buy a golden Rolex replica watch.
First, I need to say that the gold-plating technology in this field has been very mature, no matter how thick the gold is, the yellow gold color is very close to that on the genuine watch.
Second, the full watch is gold plated, including each corner of the bracelet link, the gold coating can last three years at least as long as you take care of your watch.
Third, the gold fading is not a problem now, because you can send the watch back to the factory to do gold re-coating after a long time of wearing.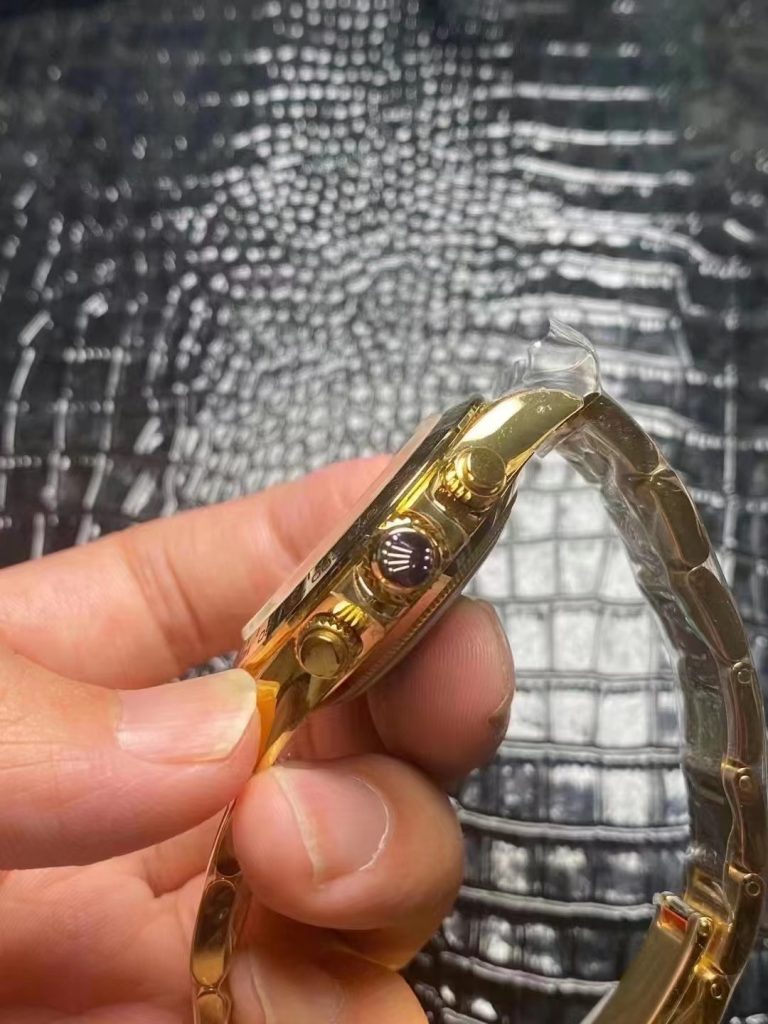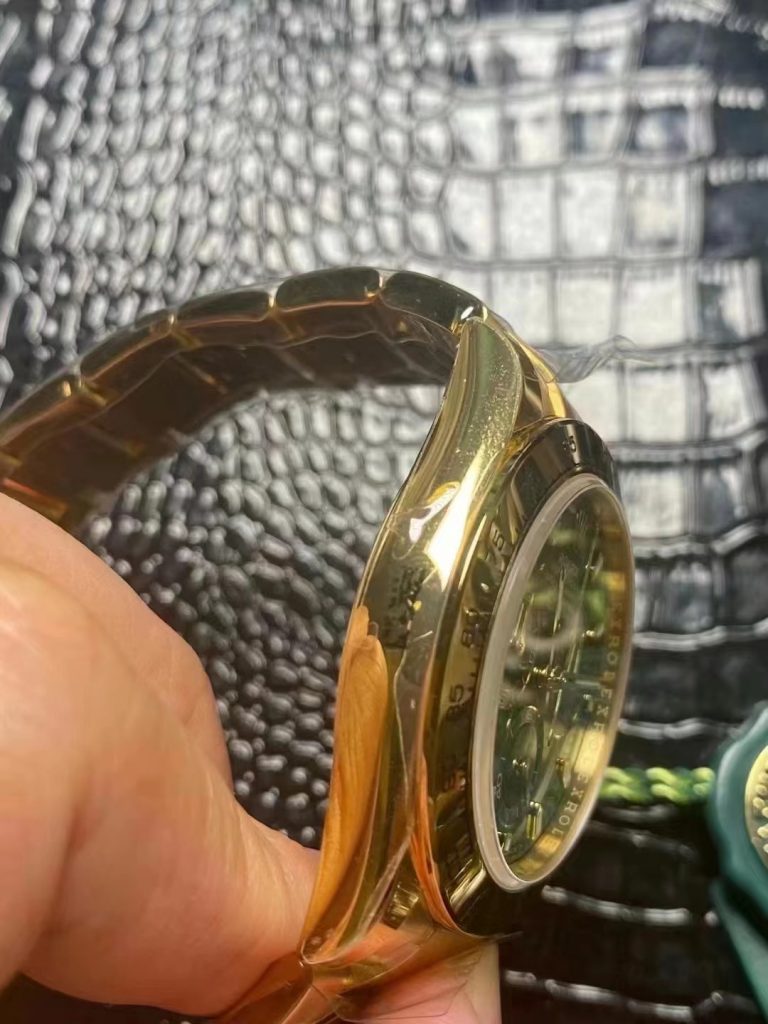 BT factory makes this Daytona with a correct case thickness, which is 12.2mm, that's the most accurate case thickness to genuine. The green dial is a problem, I mean it worth our attention, the green color, I did not compare this green with the genuine, but I think there will be color difference, but I also think the difference will be subtle.
Seeing from the front, you can see nothing different, but genuine dial may show different color when you checking from various sides, and you will find the difference on the replica then.
By the way, it is said that BT factory did not make strict quality control on the subdials and small hands, they need to be improved.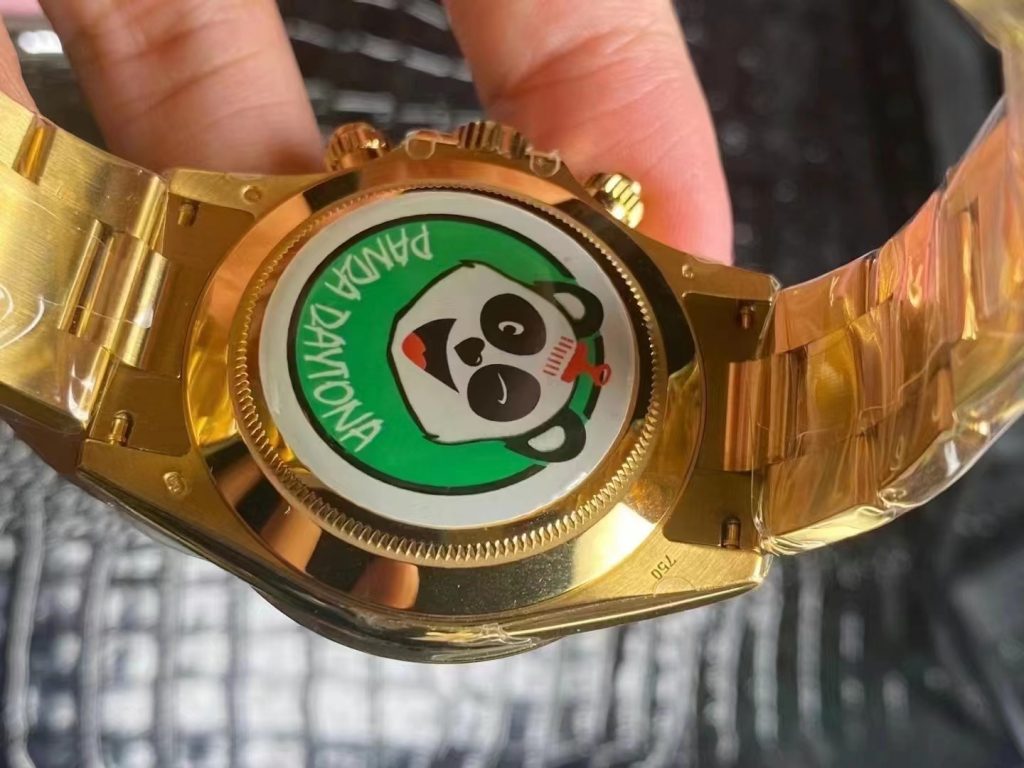 Both New Noob and BT sell this watch at a very high price, according to the latest market news, Clean factory is about to make this Daytona too, so currently I do not suggest you buy this yellow gold green Daytona from BT, wait til you see Clean's version, which maybe come out in the end of this month.