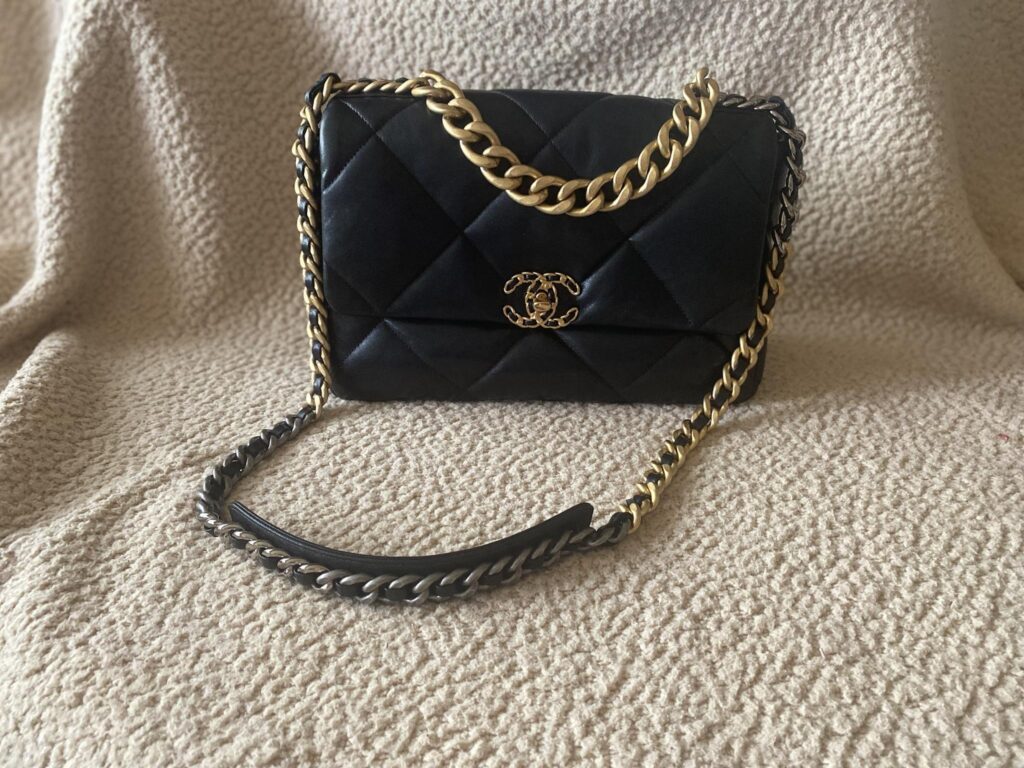 Hello fellow Chanel lovers! This is my first review on this group, but not my first rep. I'd love to get feedback. I hope this is helpful for everyone.
I have been in love with the Chanel 19 bag since it launched in 2019. The lambskin and heavy mixed metal chain with that beautiful ornate CC logo are just to die for!
I'm fairly new to the rep game & this was my 4th handbag purchase, but first from this seller. I also purchased some Chanel sunglasses, not reviewed below. The quality on the sunglasses is very good but not quite to the level of the bag. I'm less familiar with Chanel sunglasses, so I don't feel comfortable reviewing those. I have several authentic designer bags, but none are Chanel, that said – I am very familiar with Chanel handbags, especially the 19's.. As you will see below, I'm blown away by this bag. A friend of mine who has 3 real Chanels was convinced that mine was authentic. She knew I wanted this bag badly, so she thought I finally just bit the bullet and bought it. When I told her it was a rep, she was shocked! She immediately got my seller's info to also order one for herself.
Disclosure: I was ecstatic when I received the bag on May 5th, so I told the seller (Leo) that I wanted to write a review. Leo was very happy. I did not receive an incentive for the review. I was checking on other bags and reached out to Leo again, telling him how much I loved the bag and he asked me if I would still write the review, so here it is.
Product / Seller / Factory Information
Bag: Chanel 19, 30 CM, black with gold multi-tone hardware (no box)
Seller: Leo
Seller Contact Info: WeChat: Leo_bag588, WhatsApp: +86 19120637469
Factory: Xiao C
Shipper: DHL
Price + Shipping Fee: 2000 CNY (purse) + 250 CNY (sunglasses) + 320 CNY (shipping) = 2570 CNY or 403.36 USD. Paid through PayPal F&F with added fee of $16.99, so total was $420.35
Timeline
April 14, 2022 – Contacted Leo to inquire about the Chanel 19 bag. He responded with a link to his product catalog
April 15, 2022 – I sent him a picture of what I wanted, and Leo followed up on the product details. I sent my payment through PayPal F&F
April 17, 2022 – Leo sent me PSP on sunglasses & I confirmed
April 21, 2022 – Leo sent me PSPs on bag & I confirmed. Gave him the GL.
April 22, 2022 – Leo shipped the items
May 5, 2022 – Package arrived!
Pictures
Quality: 9.8/10
Leather: My, oh my – like buttah! The quality of the leather is amazing. The lambskin texture, grain, sheen – all of it -s spot on. It smells amazing – very "leathery".
Hardware is usually tell on cheaper reps, and I am picky about hardware in general. This is a hardware-heavy bag so it really matters. The hardware on this beauty is soooooo heavy. Gorgeous coloring, branding (I know that's more of an authenticity piece), the zipper, the lay of the chain, the screws used to fasten hardware – all of it was just perfect.
Interior fabric quality is just lovely, very high-quality
My only issue with quality is the darn magnet on the back pocket. Bejeezus, that sucker is so hard to open. I mean it is very well made, the metal is the perfect quality & color, but man oh man it is powerful. Luckily I don't use the back pocket often. (- 0.2) Not that this magnetic issue is not the case in the authentic Chanel, but for me, it's more of a quality issue since the hardware piece looks exactly like the real thing. I guess that could be debatable.
Accuracy: 9.9/10
I know this seems insane, but seriously – I cannot see a significant accuracy difference between the 2, even when looking at the most common replica tells. The one I listed was REALLY searching and not noticeable when wearing or using – it could also be fixed over time, so I'm only deducting 0.1. (NOTE – I did not consider dustbag & box as part of accuracy.)
Authenticity Card & metal microchip: So I didn't validate this, but it did come with a card that looked accurate in comparison to the real cards, and the number matches what is on the metal microchip plate on the inside. The plate is the correct color, size, etc.
Leather: Spot on to the Chanel lambskin. The grain, suppleness, sheen, and color is exact. Perfect amount of wrinkles and puffiness. Other reps I've seen have
Stitching & alignment: stitch threading color is perfect, alignment is perfect – both on the exterior and interior of the bag.
Shape & Dimensions: It's a squishy bag so kind of hard to be perfect, but they seem accurate at 11.75′ x 7.75′. It has the perfect slouch to it and internal structure.
Interior: burgundy fabric and color are exact. It is tight and flat to the interior.
Hardware: amazing!

Chain – this is what makes me love this bag and the Xiao rep does not disappoint. It is soooo heavy. The antiquing and transition from gold to ruthenium to silver on the braces is perfect. It's not too shiny, unlike most reps.
CC front logo: perfect position, rounding, and color. Even the screws on the backside of the flap for this logo are correct using smaller screws with a deep gap in the center.
Zipper: color, letter engraving and thickness – all perfect
Inner logo plaque/tag: brand logo, color, lettering, sheen and position are perfect

Leatherstrip on woven chain: here is my -0.1, and it is picky as hell. The size, shape, leather, stitching, and chain here are all perfect. My only thing is that this strip lays flatter than the authentic 19 I've seen in person. It usually will obstinately stand up, but on my version, it seems flatter and more pliable. In all honesty, this is not even a bad thing and that really stiff strip for over-the-shoulder could get awkward. I can also shape mine over time. I am perfectly fine with it and absolutely no one would notice it.
Satisfaction: 10+++++++/10
OBSESSED!!!!!! I cannot even begin to tell you how happy I am with this beauty. I feel like a rockstar when I wear it and am not afraid to rock it in front of the most discerning eyes. It was my first Chanel rep, and first experience with Xiao C and Leo. I read several Reddit reviews about working with Leo (all positive) and the quality to expect from Xiao for Chanel (mostly very positive). I was really hoping to love it, but I had no idea how spectacular it would be! Since this purchase, I have ordered about 7 other reps from various sellers or sites, but this is still my favorite.
Customer Service & Communication: 10++++++++/10
Leo was amazing. Best customer service and communication of any seller I've worked with. Instead of spending forever looking through a catalog of endless options, I just sent him a pic of what I wanted and he promptly responded with availability. He is so accommodating, patient, and friendly. Super communicative and helpful. Since this order, I have sent 3 friends his way for the product and just placed another order myself. He is awesome!
Again, I hope that all of this is helpful, and please let me know what feedback you have.