It is a new replica watch from VS Factory, in recent weeks, VS and APS are two factories that have published the most new models in the several months just passed. VS Rolex watches are now very hot, and has exceeded the popularity of their Panerai. Today, the new replica I am going to introduce is another bronze watch from Panerai, the latest PAM 1074, which has a bronze case, blue dial and blue leather strap. I still remember that the first bronze Panerai replica watch made by VS factory is PAM 382, which was published in 2018, that watch has been very popular for many years. PAM 382 is 47mm in diameter, but the new PAM 1074 is only 42mm. In recent two years, Panerai seldom made 47mm Submersible watches, most of them are 42mm and 44mm, but I still think that 47mm Submersible is more classic.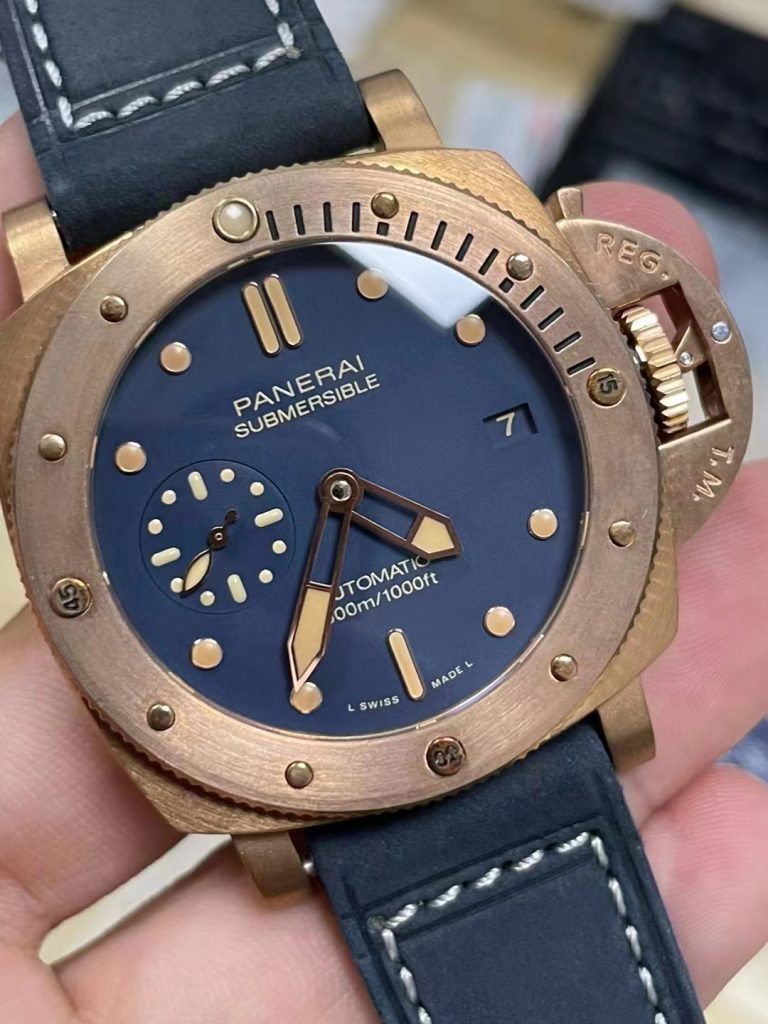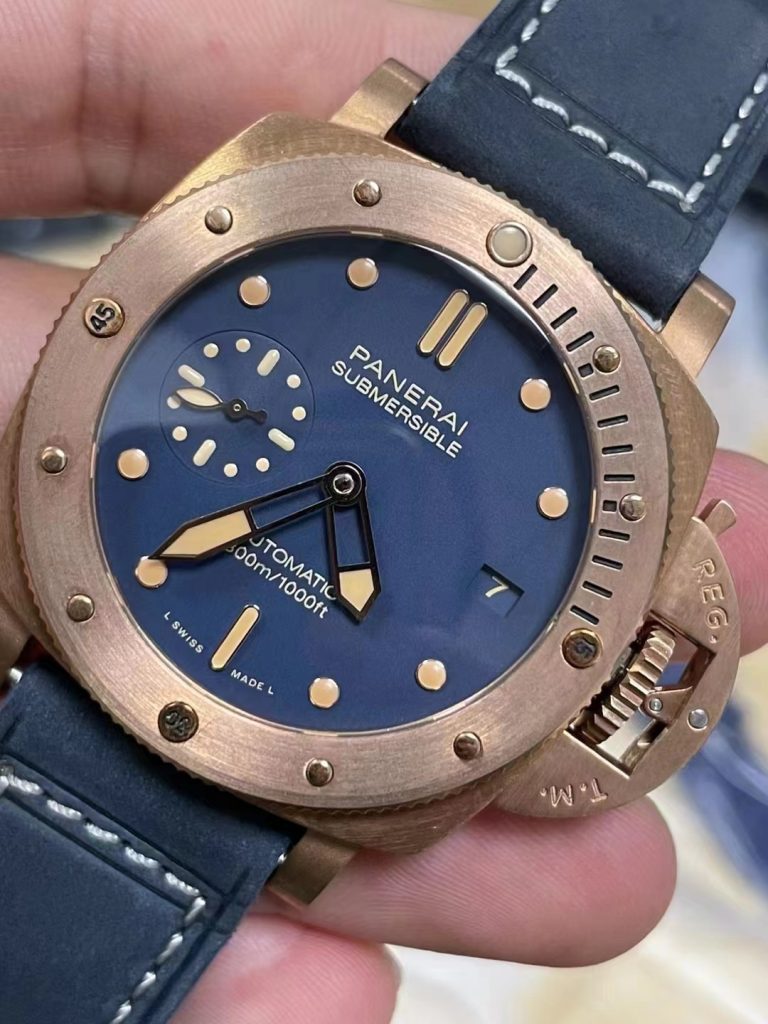 I do not like PAM 1074, first, its size is only 42mm, for Submersible of Panerai, I always think that 47mm is in its DNA. Second, the blue dial is not a good color to match the bronze case. The green dial color should be the best color to match a bronze case. So, after PAM 382, I do not think other Panerai watches that made with bronze material will make a success in the watch market.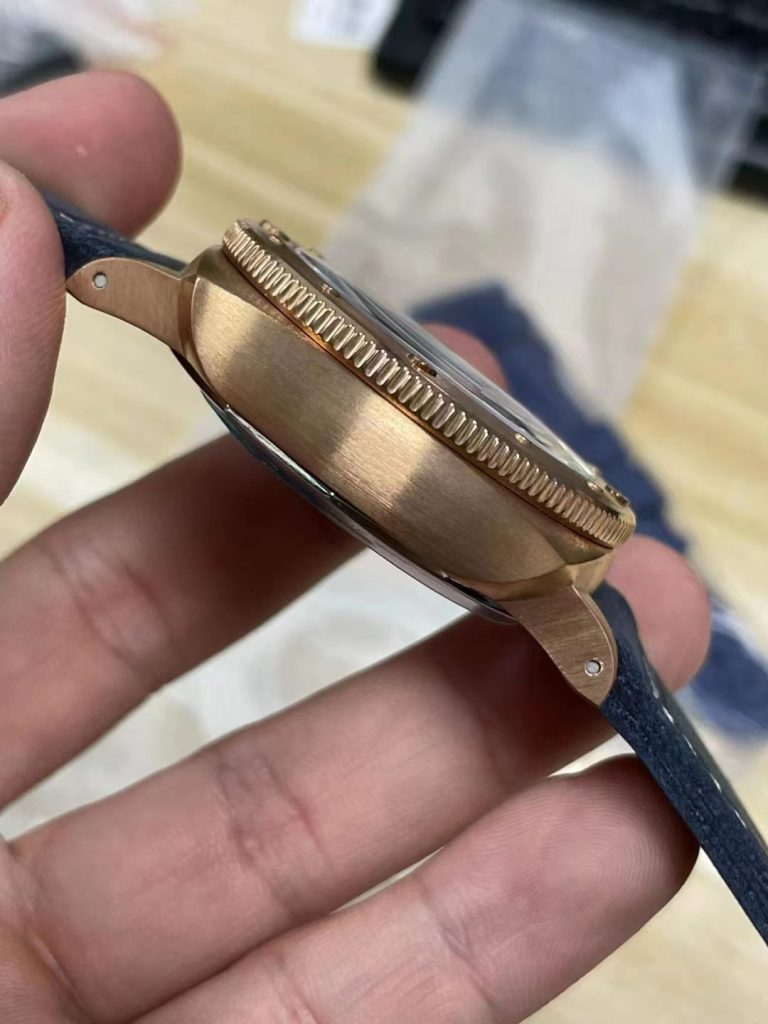 The case is totally brushed, it is made with solid bronze with the same crown bridge, the case is only 14.3mm in thickness, not like PAM 382 that is almost 18mm thick. For the bezel, its markers and metal stud are well manufactured, but the pearl at 12 o'clock has a top that looks a little domed, the genuine watch looks to be more like flat. The bronze watch offers the wearer a lot of fun to play, as time goes by, the bronze case will also look different.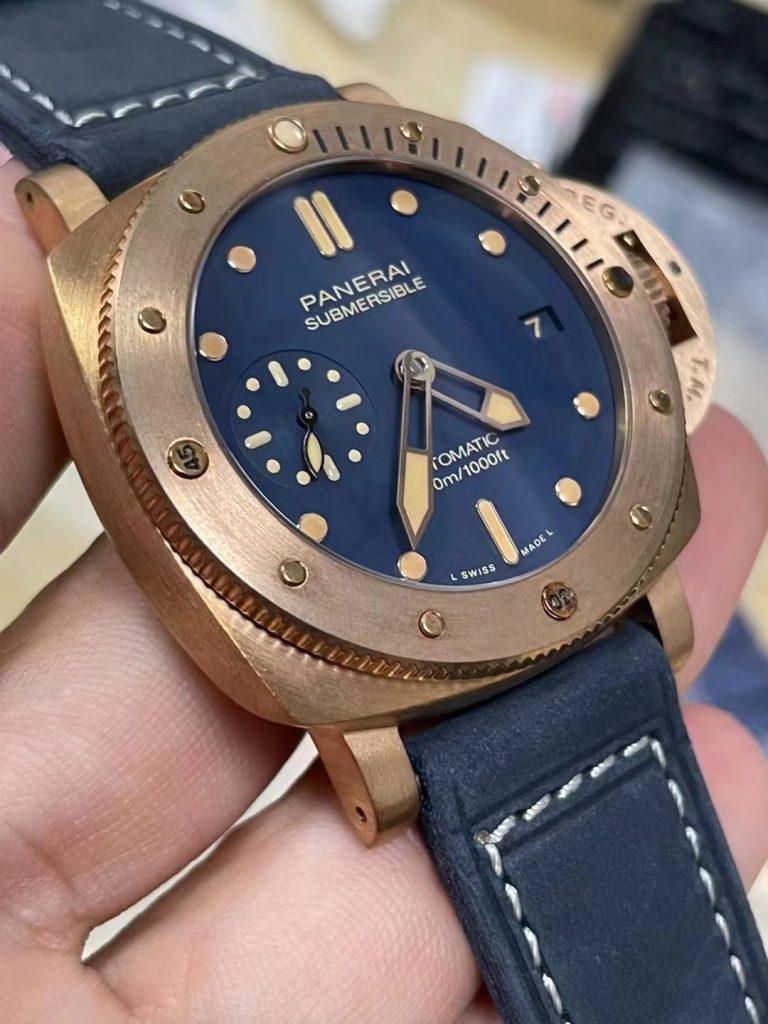 Both dial and leather band are in dark blue color, the small second hand is running on the subdial at 9 o'clock. The leather band contains three layers, but still feels very soft to wear. The crystal back has full engravings on the rim, through the crystal on the center, you can see a super clone P.900 movement, it is the best clone P.900 movement in our market, the decoration on the movement plate is most correct, but the balance wheel is positioned at 7 o'clock, while the balance wheel of genuine watch is at 6 o'clock. By the way, VS factory will send one pair of blue rubber band for free.