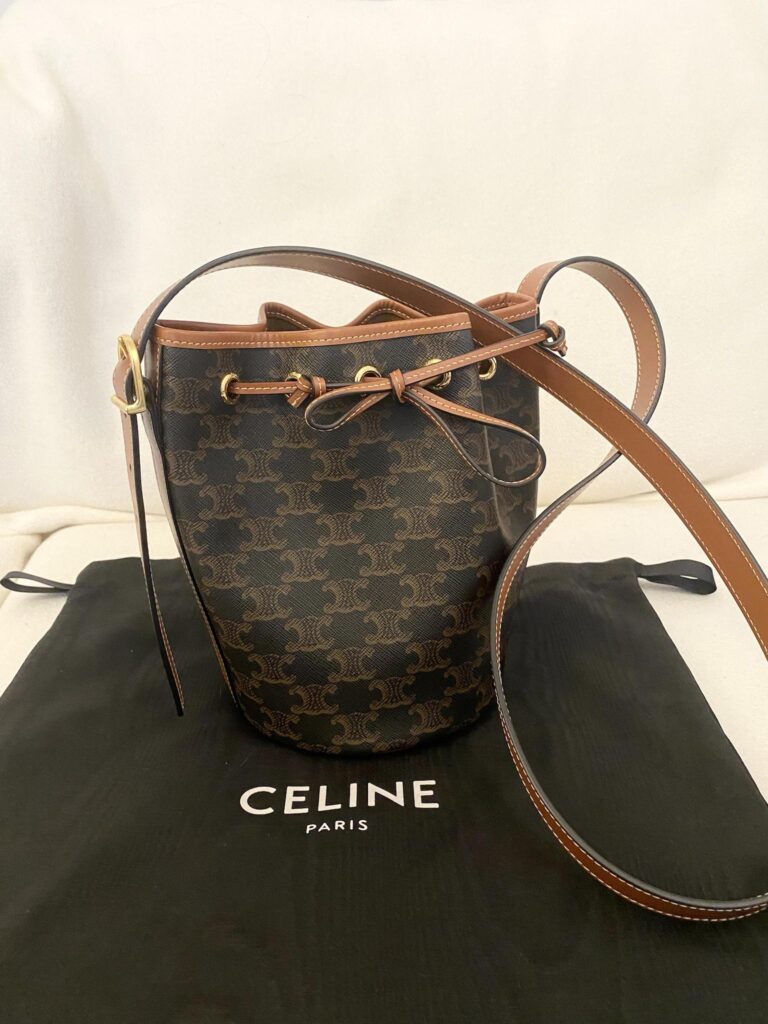 Honestly, I thought the Celine triomphe canvas was so goddamn ugly at first (and too reminiscent of the LV patterns which I also hate lmao) but it grew on me so fast. I was originally planning to get the small boston bag but when I saw Laddy had a discount on these two (and had the drawstring which I didn't think was available), I had to get at least one. I have a personal weakness for bucket bags so I ended up with this and love it (though I still might get the other at another point lol, I hear it's a great alternative for the LV speedy too).
Disclosure – No discounts given as far as I know
Seller's name: Laddy
Seller contact info: +86 16620503254 / Album link
Price of item(s): 900 CNY + 260 shipping (EMS to the UK)
Payment method: PayPal F&F
Order timeline:

Enquired about this and the small Celine boston bag (couldn't decide which one at first) 19/06
Ordered 20/06 (had another order going for a Loewe puzzle and asked if it'd be better/cheaper to ship together or separately, and Laddy recommended separately as the volume would be too high together)
Received PSPs 21/06, GL'd same day
Not sure when it shipped but received tracking number 25/06
Received 30/06
Photos
Quality – 9.8/10
The quality honestly looks brilliant to me and looks almost identical to the videos I've watched showcasing this bag. Compared to some videos/photos I've even seen of auth I might even say this looks better in some aspects (like the stamping and stitching in some areas). The only downsides I can notice are some minor areas of messy stitching on the inside leather strip (-0.1), and I think the tassel/drawstring material is a bit stiffer than auth (-0.1) (I think it is leather but it seems less relaxed/flexible than other pics and videos I've seen). Otherwise it's perfect.
Accuracy – 9.3/10
As aforementioned, the stitching inside the bag (-0.1) is a tad messy in some spots and the tassel shape/material (-0.1) looks a bit different. Although interestingly from the video I linked, the stitching inside hers didn't look too good either so it might be a flaw with auth too. I also can't entirely tell if the stitching colour (on that inside strip) is correct or not as it appears as white in the video whereas mine is brown, so I'll deduct 0.1 to be safe, but I'm not sure if it's lighting or something. The strip, I think is also meant to go down a bit further on the bottom, but I'll only -0.05 as it's pretty minor and unnoticeable. I can't find any references for the 'Made in italy' and serial number stamps on the inside so I won't deduct anything for these assuming they're fine.
I think the tassel is also sliiightly shorter than auth but I don't know exact lengths, as just basing this off photos/videos, so I'll just -0.05. The engravings all look good to me, but I realised on the eyelets the 'paris' should be upside down whereas it's right side up on the rep (-0.1).
The triomphe pattern on the canvas is almost perfect but it is ever so slighty off on the main body of the bag when comparing side by side, I think too low by just a couple mm (-0.2), but it does look correct on the bottom from what I can see.
I'm actually really impressed by the stamping, I've seen some really messy and badly aligned stamps in other pictures and the videos lol so it seems to be a common flaw with the auth. I was scared it was an inaccuracy at first, but I also found some better looking auths too so I'm assuming it isn't. Overall, I'd say this is a surprisingly accurate and well made bag, and I'm surprised at how many common flaws the auths seem to have lmao.
Satisfaction – 10/10
As I said, I have a weakness for bucket bags and Celine in particular, so I'm really happy with this bag and it has filled a great void in my heart. I wore it out today for the first time and while the drawstring can be a little annoying to tie up and deal with when getting stuff in and out of the bag (I wish it had the tightener thing like the medium size), I still love it and I'll see if I can find a more convenient way of tying it up. (I still want more bucket bags though lol).
Seller Communication and Service – 100/10
Laddy is hands down my favourite seller to go to and buy from, as she's lovely to talk to, transparent and honest about quality (probably the most respectable quality to me), and is so unbelievably patient with me when I have lots of questions and enquiries about a bunch of different bags (unlike some other sellers who just stop responding lol). I've also been a massive pain asking for extra PSPs after she just packed the bag away again (I thought the bag might have still been out when she sent me the pics so my bad heh) and I could tell I inconvenienced her a bit but she just politely asked me to let her know what I needed all at once and joked it off bless her (and also very promptly sent me the additional photos).
I love how quickly responsive and informative she is about bags you're asking about, and she's very proactive with sending PSPs and tracking numbers (never once had to prompt her for anything and never been left on read!). Also, even though I know she prefers to use other shipping methods sometimes she always honours my courier requests, so I appreciate that a lot.